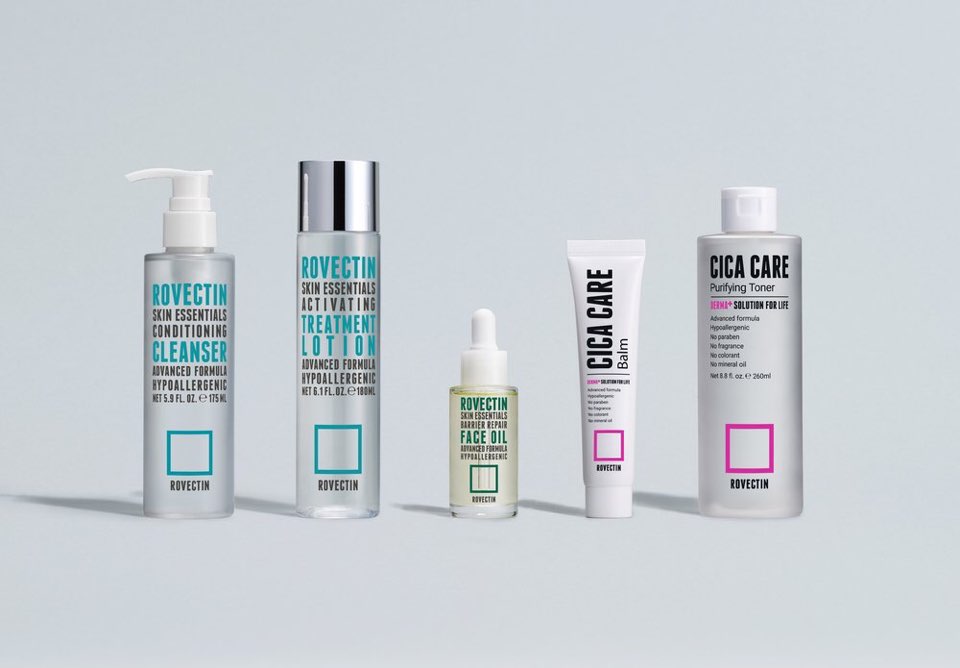 The Rovectin-6 Routine
Skincare routines can get complicated. Not only do you have to choose what products to use, then there's the arduous task of figuring out what order to use them in. It's exhausting!
Between the cleansers, the toners, and the creams, your bathroom sink can become an overwhelming situation real fast. Don't even get us started on the oils!
When it comes to natural products you can trust to deliver real results, we got you covered from ear to ear (or forehead to chin depending on how you look at it).
But here's the tricky part - If you don't use all those precious products in the correct order, or if you don't pair them wisely, you're essentially committing a beauty crime. See? Complicated.
Luckily for you, we've taken away some of the guesswork by creating the Rovectin-6 Routine. This guide is a complete breakdown of everything you need to know so you can have the skin of your dreams!
Step 1: Cleanse
Cleansers are essentially the opening act of your skincare routine, so please don't skip this vital step.
The Conditioning Cleanser is perfect for washing without overly-drying. It also helps guide the skin back to a healthy and balanced pH range between 4.5~6.5 (slightly acidic) without causing any irritation.
Using warm water, gently massage 1-2 pumps into the skin in a circular motion. Rinse and pat dry - That's all!
Step 2: Tone
Toners have come a long way from the alcohol-based irritants they once were. They're now designed to delicately prime the face for the rest of your skincare routine, not sit heavily underneath it all. At Rovectin, you can choose what's best for your skin's current needs. 
The Activating Treatment Lotion uses caffeine to reduce puffiness and tone the skin (as if we needed more reasons to love coffee), and the smoothing enzyme exfoliants clear away any dead skin cells. This bottle of wonder contains 7 different types of hyaluronic acids with different particle sizes that penetrate and hydrate the skin at the deepest layer to the top layer. No surprise that the Activating Treatment Lotion is one of our best sellers.
However, we value choices, so you can benefit more! Another great toner in our collection is the Cica Care Purifying Toner . This toner uses the pink powerhouse, Calamine, to ease any bumps or breakouts, and Madecassoside (this could totally be a spelling bee word) to even the skin and restore its youthful glow.
These toners will help you get your game face on - literally! Prime your skin for the ingredients to come by applying a moderate amount to your entire face using cotton pads or fingers. 
Step 3: Serum
Alright, time for the nutrient-packed serum. It's unfortunate that these get overlooked so often because they're pretty much a shot of green juice for your face.  
The Rovectin Aqua Activating Serum really does it all - it quenches parched skin, keeps fine lines at bay, and brings your inner radiance to the surface.
Following your toner, apply a liberal amount to your face and neck. Go ahead, don't hold back!
Step 4: Hydrate & Moisturize
You've made it all the way to Step 4, which means it's time to hydrate! We couldn't make all the decisions for you as everyone's skin is different, so choose which option feels right for your face.
The Barrier Repair Cream Concentrate is perfect for dry skin because it locks in all the good stuff while keeping the bad stuff out. The good stuff being moisture and the bad stuff being toxins, of course. It also travels deep below the surface of the skin to repair and prevent various signs of aging.
If you're kind of in the middle of the road, have no fear - The Barrier Repair Aqua Concentrate has everything you need to manage oil and aging without drying out. Plus, the antioxidants are out of this world - like 6000 times stronger than Vitamin C and 550 times stronger than Vitamin E. Yeah, good luck beating that.
The Cica Care Balm is for anyone who needs something with a little more gusto to fend off blemishes and repair damage. It's soothing and sensitive, yet tough and effective - basically, everything you could ever ask from a skincare product.
Step 5: Face Oil
Ah, oils - it's like sealing our skincare routine with a big protective layer. Oils can easily seep through creams and serums, but not the other way around, so it's crucial that you apply them last.
The Barrier Repair Face Oil restores skin to its former glory, absorbs quickly, and leaves you with a flawless canvas for makeup. Although, you might not need it anymore with a skincare routine like this!
For a radiant finish, gently massage a few drops on your face and neck. Wait for it... and see the magic!
Step 6: Body Cream & Multi-Oil
Now that we've got the face taken care of, it only seems fair to nourish the rest of the body as well! We have some options for you. 
The Barrier Repair Face and Body Cream contains Eclipta Prostrata Extract, an effective antioxidant that has skin calming properties. This cream features our Rovectin Repair Complex™, our exclusive plant-based compound that mimics our naturally-occurring lipids to lock moisture in. Panthenol and Pronus Persica (Peach) Kernel Oil make up the remainder of this potent cocktail to soothe, hydrate and nourish. Yes, please! 
If oils are your thing, try the Barrier Repair Multi-Oil which contains 9 different botanical oils for total body hydration. Don't worry about ruining your wardrobe with this one, the oils are absorbed lightning fast!
These products come recommended for all skin types, but do take time to get to know your skin to select products that best suit your skin's needs. Remember, your skin's condition and needs can change according to the different seasons, so you might rotate through some products. 
You ready now - go and conquer the world!